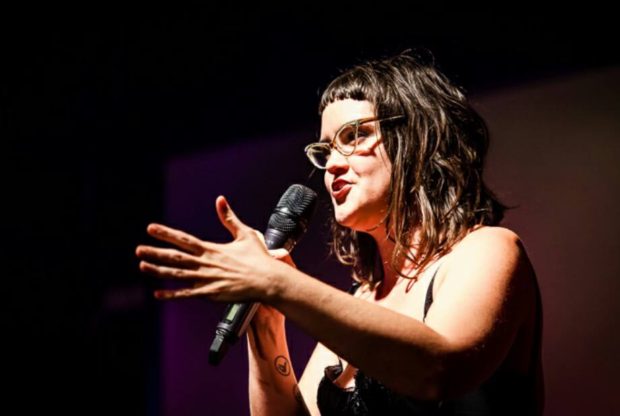 I am working to create nuanced, compassionate, justice-driven dialogue about sexual culture, sex education, gender and power, and access to embodiment and wellbeing for our gendered and sexual selves.
In my 15 years working in the field, this has manifested through writing, speaking, filmmaking, performance, facilitating discussions and experiences for individuals and groups, and working as an advocate, activist, and peer in alternative sexual cultures and in the mainstream.
Over that time, I have enjoyed collaborations with the public health sector, the arts, educators, journalists, and filmmakers. I am a point of access between those communities and the marginalised communities of which I am a part (sex workers, BDSM practitioners, LGBTIQ people), and I seek to be a voice for those who are not able to be 'out' in some or all of those aspects of their lives. I believe strongly in 'nothing about us without us', and work to get a seat at the table in discussions where my communities are otherwise silenced by omission.
Whilst matters of sexuality can often be seen as a 'luxury' or 'privilege' to speak about in the context of social justice, systemic oppression, and the general mess we've made of things, I see many links between the ways in which those cultures work to survive and thrive alongside others who face many forms of injustice.
My academic background is in gender studies and cultural studies (Chapman University, Orange CA USA; Middlesex Univeristy, London, UK; San Francisco State University, CA, USA). From there I sought practical application of the political and cultural theory that formed my views on feminism, queerness, and sex work in my role as a producer and performer at Feck, an adult media company in Melbourne, Victoria, Australia. This offered me an opportunity to explore the tensions and conflicts of interest between the parties in sex work transactions, gain experiential understandings of labour in sex work economies, create spaces in which people were able to explore their own vulnerability and empowerment, explore the politics of censorship and state control of individual and collective erotic expression, understand internal and external hierarchies of sex working cultures, and gain profile as a writer, speaker, and educator about those issues.
From there I went on to co-found Sensate Films with creative partner Aven Frey. We produced award-winning erotic media that garnered international attention, much of which explored the darker and more edgy aspects of human sexuality. We took a documentary approach to production that allowed us to capture deeply intimate explorations of performer-driven subject matter. The opportunity to travel with and speak about our work in Australia, Europe, the United Kingdom, and North America allowed me to connected with and be influenced by some of the world's most innovative content creators, academics and journalists.
Concurrently, I began presenting workshops and talks about feminism, pornography, BDSM, and consent at festivals, universities, conferences, and community events. This allowed me to broaden the reach of my work into wider spaces. I relished the opportunity to develop my sensitivity to individual and group communication dynamics and to work to strike a balance between cultivating safe spaces and encouraging others to push into the edges of their understandings of the topics we addressed. In 2014 I began organising my own sexuality-themed events, including panels, film screenings, and workshops, connecting with sex educators like Betty Martin, Madison Young, and Cyndi Darnell. A more thorough history of that work can be found here.
In 2012, I began an apprenticeship as a professional BDSM service provider. I continue to work independently as a sex worker in several Australian capital cities. I also speak and write about BDSM and sex work, with publications like The Guardian, the ABC, Vice, and Archer Magazine. I am a passionate advocate for sex worker human and labour rights, and work at both peer and non-peer levels to create sane dialogue about the issues that most affect the sex working community in Australia and abroad. This is my current passion project, and I plan to pursue it on an academic level in 2019.
I believe that open, honest dialogue about sexuality is the cornerstone of a just and healthy sexual culture. This happens on all levels of culture, and I have allowed my work to meander through as many of them as possible – even those which present new or tricky territory for me. It is my desire to influence people of all backgrounds in the ways that they think about and talk about sexuality, consent, and gender politics, and I will continue to seek both natural and unlikely collaborations to do so.